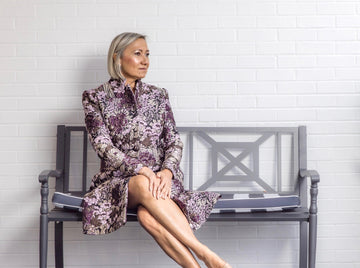 Ella Pritsker,
Creative Director and Founder
Ella Pritsker Couture is one of the Mid-Atlantic region's most celebrated custom design houses, utilizing centuries-old master techniques to deliver exceptional results. Offering design expertise for high-end couture, wedding gowns, special occasion dresses, and her very own tennis & golf performance line, Ella and her team of designers have been creating signature pieces for more than 25 years.
At the age of 21 while in Austria and Italy and waiting to emigrate to the US, destiny would have it that she met three "Old World" European dressmakers who exposed her to the exciting world of high fashion. Each taught her a piece of the fine art of hand stitched custom couture." That's when I knew that this is what I would do with my life," she says.
From patternmaking to production to marketing to being featured in New York Fashion Week, to working with global giants such as Under Armour, and appointing the closets of many private, high level local and global executive clients, including Miss Universe contestants, she has done it all and she is excited to bring her couture designs into your closets!
Ella Pritsker Couture
Ella Pritsker Couture is designed with you in mind. Each piece is crafted with detail and precision, reflecting a timeless luxury. We create clothing that is flattering for every woman and body type, allowing our clients to feel more confident and comfortable than they ever imagined. We create pieces for our clients that remain en vogue for decades. Our hand-made craftsmanship and refined materials redefine modern quality, ensuring that your love for our style will last a lifetime.
Shop Collection